There are many ways that your market can increase food access for low-income community members. The Supplemental Nutrition Assistance Program (SNAP, previously known as food stamps), the Special Supplemental Nutrition Program for Women, Infants and Children (WIC), nutrition incentives, the Senior Farm Share Program, and after-market gleaning are all great options.  This page provides more information and resources about each of these programs and ways that you can incorporate them into your market. New resources are consistently being added to this page so check back frequently and contact us with any questions: SNAP@mffm.org, (207) 487-7114.
Click on a menu item here to jump to a specific program or topic:
---
SNAP at your Market

What is SNAP?
SNAP = Supplemental Nutrition Assistance Program, a federally funded government program which has traditionally been known as "food stamps" and is restricted to food purchases.
SNAP-eligible food items include: Baked goods, breads and cereals; jams, jellies, pickles, honey, maple syrup; fruits and vegetables; meats, fish and poultry; cheeses, eggs, dairy products; seeds and vegetable plants which will produce food to eat; edible pumpkins, cider.
Non-eligible food items include: Pet foods;  soaps, cosmetics, paper products; animal fleece, yarns; crafts; prepared hot foods; vitamins and medicines; live animals; inedible gourds or pumpkins used for decorations; any food that is intended for on-site consumption (i.e. ice cream cone, hot cup of soup); flowers; inedible plants.
What is EBT?
EBT = Electronic Benefit Transfer, the method in which SNAP and other government assistance funds are given to the recipient. Funds are added monthly and the card works similar to a debit card. In Maine, the EBT card is called the Pine Tree Card. Funds other than SNAP, such as Temporary Assistance for Needy Families (TANF) or child support, can be loaded onto an EBT card so in addition to food-restricted SNAP, customers may have cash benefits on their EBT card. EBT benefits are processed using QUEST network, similar to a credit/debit card processor.
How does SNAP/EBT work at a farmers' market?
A market that wants to provide SNAP access to all eligible-food vendors must have a central EBT terminal where SNAP transactions take place. This requires a system that allows customers to then shop at multiple vendors but only swipe their card once. Some markets (typically larger in size) have a market SNAP scrip such as tokens or vouchers that is exchanged for the dollar amount swiped on an EBT card. The majority of markets in Maine (small to mid-sized) operate with a shopping sheet system which allows customers to have their purchases tallied by various vendors on an official form that is then returned to the central terminal to total the sale and complete the transaction.
Apply to the USDA
In order to accept SNAP/EBT, a market must apply to the USDA for authorization . Click here to learn more.
Get Equipment
Choose a merchant service provider and device to process EBT payments (and credit/debit payments, if desired). There are many merchant service providers available.
Currently for distinct merchant service providers and associated equipment are available with grant subsidy to cover some of the costs. Here is a chart comparing those options currently available.
*Reduced-Cost EBT Equipment Grant Program: Through an agreement with MFFM, Dharma Merchant Services is offering discounted equipment and rates to Maine markets. Additionally, there are some remaining funds available to assist with the purchase of a Dharma EBT device. Applications will be accepted on a first-come-first-serve basis now through May 31st, 2017. Click here to learn more. 
Plan & Strategize: Discuss among market staff / vendors / volunteers how to best structure and promote your EBT/SNAP program. Decide who will be the point person for the market's EBT/SNAP program and who will take on the various tasks involved in operating a successful program (central transaction booth, record-keeping, promotion, etc.). There's no need to reinvent the wheel! Get in touch with us at MFFM (SNAP@mffm.org); check out our annual workshops, and learn from these resources:
Incentivize: Consider offering SNAP customers an extra incentive to shop local despite a limited food budget (average SNAP received per person is $4/day). Incentive programs can operate – and be funded – in many different ways with the common goal of making a market more accessible and attractive to SNAP (and/or WIC) recipients. "How to Run a Nutrition Incentive Pr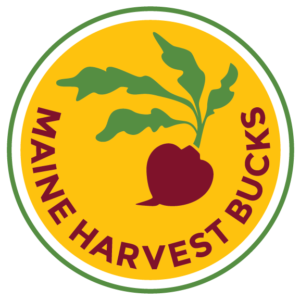 ogram," a toolkit from Wholesome Wave available here, is a useful resource to learn more about incentives. We are always available to discuss your market's incentive program and provide examples of how such programs operate elsewhere: SNAP@mffm.org, (207) 487-7114.
Click here to learn more about the Maine Harvest Bucks SNAP nutrition incentive program currently operating at dozens of farmers' markets and other market types throughout the state. This federally funded, locally supported program provides fruit and vegetable bonus bucks to SNAP shoppers to help stretch limited dollars and encourage healthy food choices.
Record: Keep careful records of your SNAP sales (and any incentives) so that your market can track progress and assure success. In particular, it is crucial to arrange an accounting system to track EBT payments and reimbursements to farmers and these records need to be kept for 7 years per USDA regulation.* If needed, ask us for help arranging spreadsheets. Record-keeping templates and tools are available; just ask Emilie, SNAP@mffm.org, (207) 487-7114. *We can also store SNAP records safely in our office if your market does not have a good storage option.
Are you already part of a Maine Harvest Bucks market? Visit our Maine Harvest Bucks resources page to find the latest tools and information.
---
---